This brand new Truck Wash facility is fully automated and fitted out with State of the Art "hydro action"INTERCLEAN (USA) manufactured equipment and Technology
This equipment consists of dual double sided and overhead chemical spray arches to apply different soaps mixed with fresh town water for the different surface make ups of your vehicles These arches are fitted with regulated nozzles that keep the sprays primed with detergents at all times
The vehicle is then driven  through a set of two fixed brushes that agitate the soap and grime to help the washing procedure and whilst travelling in the wash bay allow a short scientifically based time delay to dwell and chemically react with this grime
The vehicle is then parked up and a computer programmed ROLLIX gantry with spray nozzles dispersing pressured water travels and returns over the full length of the vehicle producing excellent cleaning results
This cleaning water is supplied through 2 USA designed and built INTERCLEAN EQ modules that supply up to 1250l/m each of fully recycled water at a pressure of approximately 280psi
All this top of the range equipment is controlled by a computer programmed designed and installed here in Brisbane to cope with the Australian conditions and road grime and dirt we can expect here in Australia not overseas
We can clean all configurations of vehicles from small 2 tonne Pantec units through to a B Double's. Machinery and cranes up to 4.3 metres in height and 2.9 metres in width can also be catered for
Tippers must be covered for the wash.
Have your truck washed up to 20 times faster than any typical hand wash facility without the need to book or wait in queues or have your vehicle off the road for days
As long as your loads are secure and waterproof we can also wash fully loaded carriers
An example of a time frame is for a full washof a semi-trailer unit from entering to leaving the bay is approximately 8 minutes
Your drivers do not even have to leave the vehicle and after payment by cash or card at the automatic pay station they will be directed into the wash bay by our expertly trained attendants where a wash is carried out whilst the driver sits in the cabin and can carry out any paperwork or finish refreshments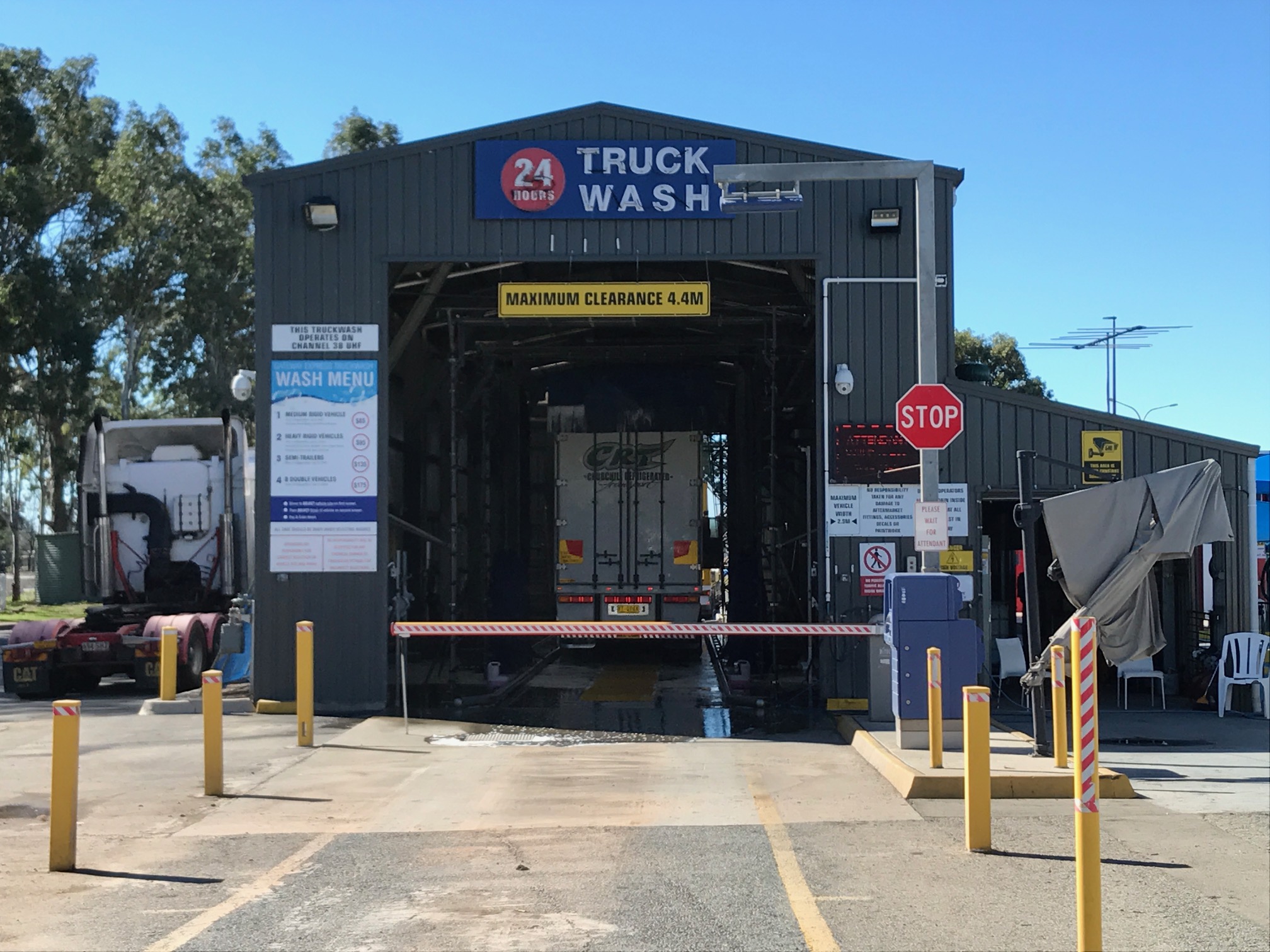 Brisbane Express Truck Wash at Nudgee is 20 times faster and a fully automatic wash, from a 2 tonne van through to B-Double configurations, cranes and other machinery in 12 to 15 minutess. No booking and No Queues as we can wash fully loaded carriers with driver inside the vehicle. Our wash will cater for most vehicles and has inter clean technology. Fleet accounts are available. Gateway Express Truck Wash is located behind Shell at Nudgee Service Centre off Exit 112 on the Gateway Motorway.